Monday, June 27, 2005
Alright everybody!
Here's my current project.
I'm working on making an rts game for the DS.
based on some ideas from guys on dual soft I have made a stupid (:P) attempt at a rts game.
Basically right now its just an Idea but I will be posting current builds and source of what I am messing with.
Once this gets up and going I will probably start with just a basic strategy game, turn based or something.
Here's the current build and source based off of doublec's day 3 tut (yes it sucks, just messing around)
Rts V.00000002
(Current Status: Background loads! but framebuffer objects erase the background, Don't know why. Tank and infantry load and move, base dissapears when hinge closes)
Test
Podcast
Tuesday, June 21, 2005
I have a dream...
Ok everybody, now that I can test my games on hardware (YAY!) I wanna start working on a game.
The idea that keeps coming to me is a real time strategy game.
Obviously a real time strategy engine is very complex so basically right now I'm just trying to maybe make a thing where a background loads with a base that can make little infantry guys.
Yah, maybe it's lame but anybody mac or windows or *nix or whatever who is interested, wants to help, can help, graphic guys, and whoever else can help me on my rts quest.
If I really try to make a rts the first step would be to make a turn based strategy game.
so long partners

Friday, June 17, 2005
Been gone too long
Hey!
Guess what i got!
Come on guess! alright I'll tell you!
I got my flash card my passme and a gba which is everything i need for deving on hardware
and guess what it worked
yay
so i've been having fun playing nibbles and tetris all the e3 demos and stuff
SEE! I knew Mac ds development was possible
so there
email me @ christruman@rcn.com if you want to know where and what you will need to buy for mac ds dev

Wednesday, June 08, 2005
Dual-Soft.com!
A bunch of cool guys started up a site called
Dual-Soft
And have asked me to move my tutorials there. WAY better look and interface!
My first tutorial is up at dual soft
here
The site should be all up soon they have a great forum and just a cool site! Check it out!
Sunday, June 05, 2005
PheonixRising Tutorials
Alright converted these tutorials
They have some great documentation
Here
Here
they are in mac format although you can't make your own graphics.
He uses gimp with some of his
plugins
that i can't get to work
Any help with this or another way to make ds graphics on mac would be great.
Ok yah im gettin a white gba
Tutorial Update
I updated my tutorial to include info on the arm7 code and cleaned it up a bit.
I know the arm7 code looks horrible I will fix that
Other updates will be showing how to test on hardware with mac
But since no one on mac really cares and I don't have my gba I cant even test yet
I will eventually add that
I started a
day 2
Which isn't much now but it basically will be just me messing around with ds code,
Trying to figure stuff out and telling you about the stuff I acctually get to work
Alright, anyone who has a mac and does ds dev email me please so maybe we can get a mac team started up or something
christruman@rcn.com
thanks!
Saturday, June 04, 2005
New CC Tutorial!
CC (doublec aren't i clever!) has made a tutorial 5 on sram
I can get it to compile but the demo won't work with the sram
It has something to do with devkitarm Anyone willing to help would be great
Also im running low on hosting space I might have to take cc's old tutorials offline soon
l8tr

New Project(s)
Alright I have been working on a couple things...
First I have converted most of PheonixRising's demos to mac format and I'm working on some others.
Anyone willing to help me out would be greatly appreciated :)
Oh yah my cable is in the mail will be here probably on monday or tuesday
I still need a gba though....

Wednesday, June 01, 2005
Wicked Awesome Am I!
Ok you will never guess what I just did!
Come on guess
Ok alright I'll tell you
I converted etho's wicked awesome 3d tuts to mac format oh yah!
Here they are!
Check the readme for compiling info and email or aim me with any q's or idea for new projects
jstart400
Hardware! ;)
Current Hardware Status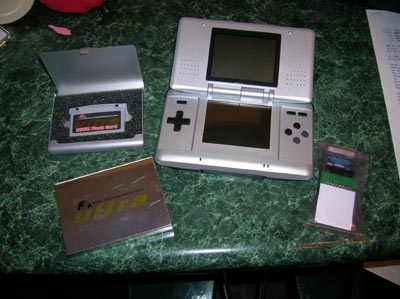 F2a ultra card
Passme
Nintendo DS
Still waiting for the link cable (any day now) and I need a gba
I'll go down to World of games and pick up a gba on thursday probably then i can show you my amazing mac hardware setup!`
Hey IM me
jstart400