Tuesday, May 31, 2005
Current Project(s)
Alright an update.
I NEED MORE PROJECTS IM BORED GIVE ME SOMETHING TO DO!
hah
I'm working on a webpage that I will put my mac tutorials and stuff on
here
Here's the beginning of my
day 1 setup mac tutorial
Also etho's 3d tuts Are Done!
They are some wicked awesome tutorials
From the guy who brought Optimus Prime to the ds now shows us how to make colorful spinning triangles and squares
And now they are done (see above post) now working on trying to make the tutorial 5 thing work
I want full 3d
Oh yah plus I almost can test on hardware
I have a flash cart a passme but no linker cable and i need a gba or gbasp to use its gba port to write to
my cable is coming in the mail next week and I might get a gba on ebay unless someone has one they might like to donate to the mac cause :P
Wednesday, May 25, 2005
Lynx Rocks! Free hosting space!
Alright!
Lynx gave me this place on his site to upload mac stuff and eventually my demos.
Take a look!
-=jstart=-
Tuesday, May 24, 2005
Nice.....

Update! I compiled all of the demos at doublec's site to mac format with project builder (see pic below of the nice clean build) and xcode templates. I will be writing most mac templates like these hosted at my ndshb site lessons 1-4 are here

Working on lesson 5
Nice clean build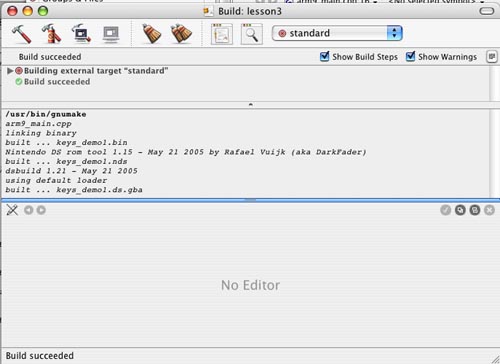 Hey I started a blog!
That wasn't too hard. Cool! Anyway I will be posting here about mac stuff I am doing for gba but mostly for Nintendo DS. Especially my project builder and xcode templates for ds deving.
ok
Thanks for stopping by